For this week's blog, I'm going to give you, my readers, an inside look at agencies. Let me explain how agencies charge for social media management. During our weekly game plan meetings, our full staff gets together. We schedule our the master calendar and each set up our own week. We brainstorm over coffee thanks to our wonderful Keurig. Because our footprint is embedded in the St. Petersburg / Tampa Bay area, we have a vast network in place. It's a network we have cultivated carefully over the last 10 years. You know what they say: when you're in trouble, your network is vital.
Luckily, we are not in trouble. Yet, we hear a lot of people, both in and outside our network, who are in trouble. They are troubled when it comes to social media. Impressions, engagements, click-throughs and, of course, their returns on investment are top of mind. Social media is not an easy thing to do and measure well. It's not something you can master with just one online course. In order to be successful, you need to constantly learn, try and measure whether or not your processes are working. We have adhered to this exact principle from the very beginning.
Part of the troubles people share with our team is about the cost of outsourcing their social media. Just like with anything in business, you're paying for more of the things you don't see. A high-schooler could handle social media for 10 bucks an hour, but how do you know he or she is going to deliver? What you're paying in regards to an agency is their expertise, their tools, their time and the pieces in between. Those pieces are comprised of analytics, content cultivation, scheduling, the scheduling tools, the manpower to make it happen, and time. Time is often forgotten and overlooked until you've been on both sides of the table.
Life Improvement Media Group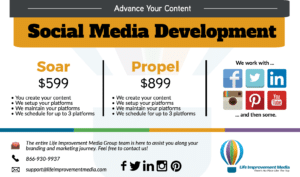 is here to assist business owners as well as brands who wish to advance their content. I recently revamped our social media packages and just in the knick of time! Streamlining the process makes it easier for both my team and my clients. I don't work exclusively with certain social media platforms. Please don't be thrown by the social icons on the image. Those are only the platforms I work with the most.
Social Media: The Cringe Worthy Stories
In my travels, I've heard it all—all the excuses you can imagine. The worst come from lack of education. The people managing those social media accounts don't know better. I'm not blaming them by any means. Still, it hurts my eyes to see a Facebook business page that was created years ago with no recent posts. It's essentially a ghost town lost somewhere on Facebook's server. It makes me upset to think if that business continually posted content, they would be more successful. If an agency is hired to take over, expect a lot of damage control, first before they can begin. Think of it as developing land. You need to clear the land of trees and level it, before you can build on it.
A close second excuse would be not having any social media. That, in itself, is actually an opportunity to start strong and maintain for the long-term. Whether an agency manages those accounts or not, it's better to start on the starting line as opposed to starting behind the starting line. Having an old account with no content history is rough. Having a sporadic content history pulls you behind the starting line and farther from your customers. Don't be that business! Start the right way from the beginning or risk paying more than necessary to fix problems down the road.
Be Smart About Your Time And Your Money
At this day in age, human beings are impatient. We want instant gratification. We are all guilty of it at one time or another too. Running a social media campaign is no different! People want instant results and instant engagement—pretty much anything instant they can have, they want. Regardless of whether you run your own social campaigns or outsource them, keep one thing in mind. Consumers take time to trust a person, a company, or a brand. Which hurts least for you, time or money? Can you afford to pay an agency to speed up your sales process?
Just because you post a couple motivational pictures doesn't mean they're going to buy into your diet program or your online fitness regimens right off the bat. Consumers are also getting smarter. The good and loyal ones will pay attention when you comment back on your online reviews. They will pay attention when you thank them for their Facebook comments and retweet their tweets. It should be a given, but engagement and being social is a two-way street. If it is not a two-way street in your world, figure out what you're lacking and change accordingly. Immediately.
The 30
—
60
—
90 Rule
The above rule is true of any marketing campaign. Of course, it applies to social media as well. When you begin a campaign, you must establish a baseline. Keep track of all necessary metrics—how many likes your business page has, how many followers see your tweets, how many LinkedIn connections you have and so on. Once you start your campaign, keep track of your numbers after 1 month, after 2 months and after 3 months. Again, you're paying an agency for time to grow your business.
Gauge those intervals against your baseline so you know whether your content is being well received or needs to be modified. This is what competent agencies should do as part of their social services. As a result, it's where the higher-than-expected prices come into play. Agencies are doing far more than simply typing a post and clicking SEND.
A good agency will give you a methodical breakdown of your accounts on a consistent basis. A great agency will do the same and explain where you can improve. It could be the timing. Improvements could also come in the forms of length of content or even the type of content. There are many variables that need to be addressed. First, start with the right agency whose team understands everything around social media management, content creation, analytics and strategy.
Thank you for your attention!
To take a copy of this blog offline in a PDF, click the image below!