In my latest thoughts, I'm feeling very conscious of websites. As my agency, it's sister radio station, and my personal brand all reach the end of 2017, I decided to give away a website to one lucky winner. Your name and your email are all you need to enter to win. In case you missed the link from my social posts, it can be found right here. What's on my mind is websites and how people are tricked into the cheaper, but more limited options. Don't get me wrong, all consumers pay what they can afford and what they see value in. Sometimes one principle overrules the other. For the most part, price and value rank high in a buying decision. The case comes down to the DIY websites where you create your individual websites using pre-formatted templates. All you need to do to have the basics is plug in the content, pay for your monthly or yearly subscription for hosting, domain, what have you, and … play. I'm going to call it the "plug-pay-and-play" system. Or is it better to hire the experts so you get more bang for your buck, so to speak? Join the conversation.
In my past, I have worked extensively in multiple coding languages. Listing them all would make your head spin. The major ones and some you may not have heard of that come to mind are Joomla, Java, Javascript, C+, PHP, Ruby On Rails, Dreamweaver, HTML, and, of course, WordPress. The experience in these harder-than-normal languages sets up the ease of the future. WordPress and Divi are much easier to use and understand when building and when things go awry. To someone new to website development, it can be overwhelming.
Don't Judge A [Website] By Its Cover
Something tells me that when people think of expensive (and quality) websites they think of tons of coding you must learn or pay someone to do for you. Like what's pictured to your left … no, not really. Not even close. If this was 1994 and HTML coding was the only way to write a website, you might be stuck with that horrendous list of code. But, not anymore! There are many options to build a website in 2017, if you haven't built one already. (Quick aside: personal websites are becoming as common as social media profiles if you're some sort of figure–author, businessman, speaker, coach, doctor, lawyer, nutritionist, fitness trainer, etc.) For example, I have three that I manage with my team. My agency has its own website at LifeImprovementMedia.com. The radio station is separated onto HeliumRadio.com. Lastly, my personal brand created for speaking, the one-man entrepreneur and consulting is where you are now: ErikRemmel.com. Here are the ones you've most likely heard of SquareSpace | Wix | Weebly | WordPress.
Factor In The Pricing
I would advise being wary of websites that do not specify any type of pricing up front. While not always the case, there's a good chance you will have to nickel and dime in order to get what you really want. After all, looks aren't everything and can be deceiving. I've been there before as have many of my employees in their early steps of their website journeys.
Speaking of pricing, did you know that WordPress is free? Signing up for a WordPress account is indeed free. What many people think regarding pricing is false. WordPress is free to create with and use. When you incorporate a domain, integration and hosting your website, that's where the money comes in. One DIY website package might fit all your needs. However, the lack of control you have could present your business with limitations that would not hinder you had you gone with WordPress. Just a piece of food for thought. Know your limits with the available website platforms before you pull the trigger on a monthly or yearly fee.
Looks Aren't Everything
Yes, some of the more popular, less expensive, do-it-yourself options do have beautiful designs. Beautiful … templates, rather. There's nothing wrong with templates, though. The challenge is that you're quite limited with the design you choose. What happens if you select a template, build it out and then need to change a few modules or an entire page? You can't change just a few things and be finished. Inevitably, you will be forced to change your template choice if you want to alter the design even slightly. Changing your design means starting over and putting all the information back into new, different sections. You're essentially putting a limit on your creativity with strict templates from free or DIY websites. Not to mention the time it takes to start over from scratch
Just so you know, WordPress has templates to choose from too–hundreds in fact. They too are beautiful and come filled with demo content so you can get a feel for how your content would look on the live pages.
Websites: It's What's On The Inside That Matters
Cliche number three. It even applies to websites. Here's what separates the men from the boys; the women from the girls, the business professionals from the amateurs, and the trusted from the distrusted: the back end.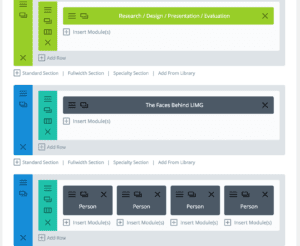 Take Divi for example (see left). I'm writing this blog on a Divi platform. Divi is gorgeous. It's extremely user-friendly. Think of Divi as the Siri for professional websites–it makes life easier for you. Drag and drop. Create global modules. (For reference, global modules are modules you can set across multiple pages on your website. Therefore, if you change info on the global 'home page' module, the modules on the 'about' and 'contact us' will reflect those new changes). Import. Export. Custom sections. Design how you want. Divi really forces you to think outside of the box in terms of creating your own website.
My Concluding Thoughts
WordPress. That is all. Whether you work with me, go with another team, or do it yourself and risk the uncharted waters, WordPress is a no-brainer. The designs, the flexibility, the value in non-limited SEO and the price difference is all you need to concern yourself with. If you have questions, I will answer them for you. Start with my digital strategist, Justin: justin@lifeimprovementmedia.com.
Thank you for your attention! To take these notes with you, click the eBook below to download a PDF.