The alarm goes off and I don't want to get out my comfy bed, but I have to. My other half is up for her job earlier than I am. This forces me to be up and send her out the door to work. Next, it's my turn to start my day. I'll give you a peek inside a day in the life of a business owner. Our team writer thought this would be an interesting blog to share and I agreed with him. Let's begin…
More often than not, I wake up early. When I do, I'm exhausted from going to bed late the night before. I'll usually have my first cup of coffee and head up the street. At the gym, I'll do some cardio and weights, but more cardio. Once I return from the gym, I'll shower and set up my day.
10am: Starting My Day
Many things play a factor in starting my day. I definitely look at my vision board hanging above my desk. Speaking my affirmations and checking in with my goals is a necessity for me as well. Setting up my day means focusing on both personal life and business. I always compare the numbers in closed business from the day before to the weekly and monthly goals I've set. Of course, I'll check my daily schedule, my to-do list and the handwritten notes in my planner. It's always a matter of figuring out who I need to call and when. Sometimes it's a matter of figuring out who I need to meet in person. Between my affirmations and reading my to-do list, I am often interrupted with a phone call from a client. It's an interruption, sure, but it's okay because clients are the lifeblood of my businesses. Occasionally, I'll be interrupted by an employee text or a notification in our client management system—something small that needs my immediate attention.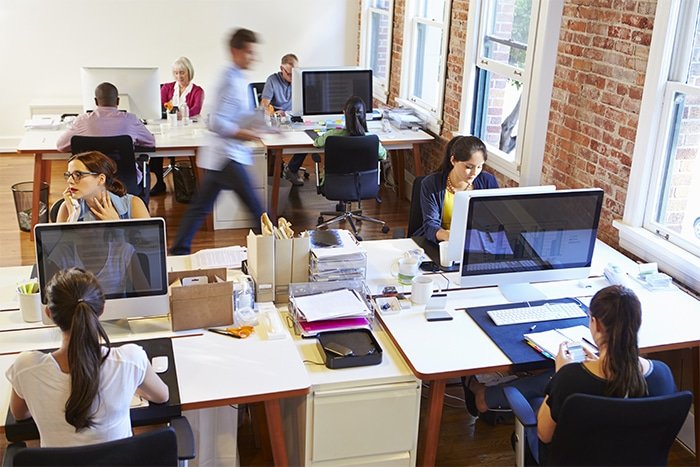 With the urgent matter handled and me focusing on the day ahead, I can and will officially start on the first project. I do get interrupted even as I start. Unfortunately, it's usually a bill collector or a telemarketer. They always try to solicit something I'm not interested in or never will need. Depending on the business I'm focused on for that day, I will check QuickBooks and make sure that both inbound and outbound payments went through. It's definitely essential to make sure each part of the businesses run smoothly.
 After years of owning and managing my own business, I've learned to except the interruptions as standard. If I block out two hours for a project, I know it will always take more than two hours because things come up. However, that's the way it goes as a business owner. All of my business owner friends and colleagues can certainly testify to that fact.
My employees in the office on a regular basis know that I will typically skip breakfast or lunch. Depending on the week, I'll have either a late breakfast or a late lunch because I'm busy productive working. (There's a big difference between those two words!). When the juices are flowing and I'm in the zone, I find it hard to break away, even for food or a second cup of coffee. However, that is how I operate. I do eventually make it to the kitchen.
Regular Caffeine Is A Must 
Speaking of coffee, I will average between 3 and 5 cups a day from my Keurig. Luckily, I don't have an addiction to Starbucks. I would waste time going up and down the street to Starbucks. It would be easier to move my office into an actual Starbucks location. 😂
In the first half of the day, I'll make it a point to check my professional social media. I want to make sure to respond to any comments or questions personally directed towards me or my companies. My wonderful digital engagement strategist, Corynne, also handles my Facebook and Twitter. I want to thank her for her hard work! Instagram is the only platform I need to manage and ensure my posts are posted. (Hootsuite needs to step up their game and figure out how to fully integrate mobile posting). I also double check social media alerts. I make sure no one in my audience is unprofessional or said anything negative that needs my attention.
As with any business owner, email is an occasional thorn in our side. I check my email, of which I receive 300+ a day. My admin has roughly 9,000 emails to go through total. In between those checks is work time where the business comes to life. Design projects, creating proposals, investigating new tools, client intake phone calls, maintenance Skype video chats, strategizing, game-planning, brain-storming and leading my team all constitute the bulk of my day. Everything up to this point falls into place at random times until the office closes at 6pm.
After Hours: 6pm And On
After hours (after 6pm) is when I take a real break. I eat dinner and spend time with my family until they go to bed. I'll try to sleep with them, but can't. Therefore, I'm usually back working because I can't turn my brain off. By 10 pm, after 3-4 cups of coffee, I'm still thinking. The juices are flowing and I'm creating. After hours is when I usually work on the internal things. They vary across things such as rebuilding hard drives, testing new toys and tools. I will also adjust our websites, our updates, tightening up how we present ourselves, and so on. There's always ways to improve our websites through from a UI/UX perspective.
If no changes are needed, I'll switch and begin some work for the following day. I'll strategize on how to best attack a project and await the team's input the next morning. Making sure my calendar is full for the next day is helpful. When I can get the most out of my day, I feel successful. I thank my handwritten planner and to-do's from InfusionSoft for those feelings.
There Is No Spoon
In my bat cave, amidst the computer screen light and gentle humming of the CPU fans, is when I'll plug into the Matrix. The Matrix is real, by the way. Around 11 pm or 12 am, I will dive into the analytics. Watching who visits our websites is important. Although, some may not think so. Afterwards, I'll continue to strategize and follow up on texts and more social media messages … oh, and more emails.
Fun fact: If it's Friday, I'll review the 1099s, the W2s and make sure everyone got paid and payroll went through. I DO have to keep my staff happy and they might go ape-chit if they didn't get paid! Now you have an idea of what it's like to be a business owner!
Thank you for your attention!