Almost everyone and every company searches for the best marketing tools to boost productivity. Fresh for Spring 2017, I have come up with 5 marketing tools that will greatly help you do this. Save time so that you can be more productive in other areas of your business.
For starters, BuzzSumo allows you to analyze what content performs best for any topic or competitor. Building your content marketing without any insights or validation of your ideas is like writing in the dark.  Doing the right research in advance takes a little time, but can save you hundreds of hours in the long run. It can also tell you what's working best for your competitors and give you inspiration on how to piggyback on that success.
Zemanta is the only cross-channel media buying platform specifically designed for the promotion and distribution of marketing content.  It speeds up the process and shows you recommendations, tools to set up in-stream ads, in-text ads, and sponsored content. The best part is you get to reach only the targets you want. this allows you to get the most out of your content marketing campaign and spending. The app manages the process for you, from testing the graphics and creative, to tweaking your bids so you're meeting all of your goals.
Canva is another wonderful tool that helps you save money when you can't afford your very own graphic designer. The web calls Canva "The easiest-to-use design program in the World." It makes it easy for any content marketer to become a designer.
Evernote's app, Skitch, makes applying shapes, arrows, and sketches to your posts and content amazingly fast. You can also download PDFs and make your own annotations for your team to review; you can trade notes back and forth without having to explain it all by email. Writing directly on your work speeds up the approval process. It also speeds up your level of communication.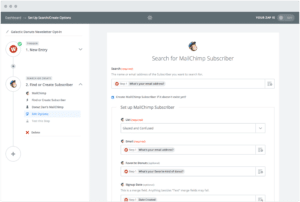 Zapier helps connect all of the web apps you love to use and refines the automation process without much follow-up. It does take a while to set up on the font end but is easy to use once that's done. You can move a lead from your online form into Salesforce without coding anything on your end. Ultimately, Zapier turns all of your web apps into faster, stronger, better versions of themselves!
Thank you for your attention!